Tuesday, December 13, 2011
5. Antoine Reverb
psychedelic Alternative Pop (Guadalajara MEXICO) 
http://antoinereverb.bandcamp.com/
Listen to the song Little Cabins/ Little Castanets off of A Revolt of Sorts. Its amazing. 
4. ANR
Alternative Pop (Miami FL)
I really like ANR. I got their album Stay Kids and I've really been listening to it a lot for about a week. The title track Stay Kids is really great! 
3. Ambition
Hip Hop (Halifax CANADA) 
**Love this! Everyone should go and download his K.R.E.A.M. mixtape. The track Quite Like This is my favorite! 
2. Agent Fresco
Rock (Reykjavík ICELAND)
1. Akina Adderley & The Vintage Playboys
Soul, Funk, R&B (Austin TX)
Tuesday, December 6, 2011
I'm Back!!!
Well guys, I know its been some time since I last wrote. These past few months I've been so busy with school and have totally neglected you guys and I apologize! The good news is I'm done with school, Christmas break has started, AND the 2012 South By Southwest 1st music list has been released! I've gone over it and its full of bands and artist that I already love! I'm sooo excited to find some new bands and can't wait to share them all with you! Starting sometime at the end of this week I'm going to start posting my reviews for these bands. This year due to being so busy with school I'm going to be doing things a little differently. Instead of reviewing every single band I'm going to list them all with where they're from and genre and then doing actual reviews on the ones that I really like! I wish I could try and review every band again, but being a senior PR major means that most of my time is being spent on projects. Anyways, lets start getting excited because there's only 97 till SXSW 2012! YAY!!!!!
**Edit** The 2nd list just came out today, so now we have a HUGE list!  
Wednesday, September 14, 2011
Tuesday, March 22, 2011
Saturday SXSW 3/19/2011
Ohh the last day of South By South West. The last day is always so bittersweet. I'm sad that its over, but at the same time I'm ready for all these people to get the hell out of Austin and can't wait to sleep, sleep, sleep. I got off of work and decided that since I had spent way too much money Friday night and that since I was gonna pretty much be by myself that I would go spend all day at the Fader Fort and drink for free. I hadn't been to the Fader Fort all week and thought that since I had waited in line for 3 hours for the stupid wristband I might as well go. Plus James Blake, who I really wanted to see, and The Cool Kids, who I saw at my very first SXSW and just seen about a month ago, were playing. I was in the very front for James Blake and it was amazing. His slow dubstep is so moving and relaxing and looking at him make these sexy beats in front of my face almost knocked me off my feet. Oh and he's soooo cute! He looks like a grown up Bieber kind of. He only played 3 or 4 songs which was kind of disappointing but I was still impressed. I really hope he comes back to Austin, because I will be there fo sho! After James Blake was some scream-o band and I went the farther back in the fort to where I couldn't really hear and relax and have a few drinks before The Cool Kids. I was pretty much in the front for The Cool Kids and they put on a great show like always. In the middle of their set Asher Roth jumped on stage and performed a song with them. Many people probably don't know this about me, but I love Asher Roth! I think he's totally sexy in so strange way. When he came on stage I literally almost jumped over the barricade and tackled him, but I refrained myself the best I could. Next to the stage was Curren$y. I've never really listened to Curren$y but I'm always down to support some New Orleans rap. After Curren$y I went back to my spot in the back of the fort to wait and see who the surprise performer of the Fader Fort would be. Lil B was last on the official line up, but The Fader Fort is always known for having some big surprise guest. I ended up meeting and hanging out with Steve and Aaron of The Hood Internet, who are too great guys and found out that we have a friend in common, the one and only Neiliyo! They are really into Lil B so we went back up to the stage to see The Based God. I had never seen or heard of this Lil B character so had no idea what to expect. What. A. Show. Lil B is one crazy dude and I have to say, I really do dig his song Wonton Soup. #SWAG. Before Lil B went on, to everyones surprise, the one and only Sean P. Diddy Combs came out and introduced him. Lil B performed a couple of songs, went on a couple of rants, and then tried to sell his book as one of the best books ever written. By the end of the set more than half of the crowd was gone. In attempt to bring the crowd back to life Diddy hopped on stage and started singing his verse from Waka Flaka's Oh Let's Do This, which brought the crowd back to life. As soon as he got off stage the crowd went wild, chanting DIDDY, DIDDY, DIDDY! Lil B's DJ then started playing the beat to All About The Benjamin's and the rest is history from there. He played his two other classics, Mo Money Mo Problems and Victory. Lets just say all my dreams of being a kid in the 90s, growing up on Puff Daddy, came true in those maybe 20 minutes! Diddy then introduced Odd Future and they performed Yonkers and then that was the end of The Fader Fort 2011. After I left there I decided to head over to the Red Bull Party to meet up with friends. I was trying to find them in line but couldn't find them due to the loudness and bad cell phone service. I ended up walking to the very front of the gate and walked right in with ease, real crasher style. Drinks were some what expensive and due to my brokeness I didn't want to buy any. I was just turning around to leave when I heard the MC say "You might know him from the Fresh Prince of Bel Aire…" and before he even said it I knew who it was…. "DJ JAZZY JEFFFFF!!" I turned my little body around and ended up making it pretty close to the front. I couldn't believe it, Puff Daddy and DJ Jazzy Jeff in the same night, no words. Towards the end of his set I was getting pretty tired and decided to say goodbye to SXSW 2011 and call it a night! Every year South By South West tends to top the year before, but this year was truly the best ever! I don't know how next year will ever be able to top 2011!!!
James Blake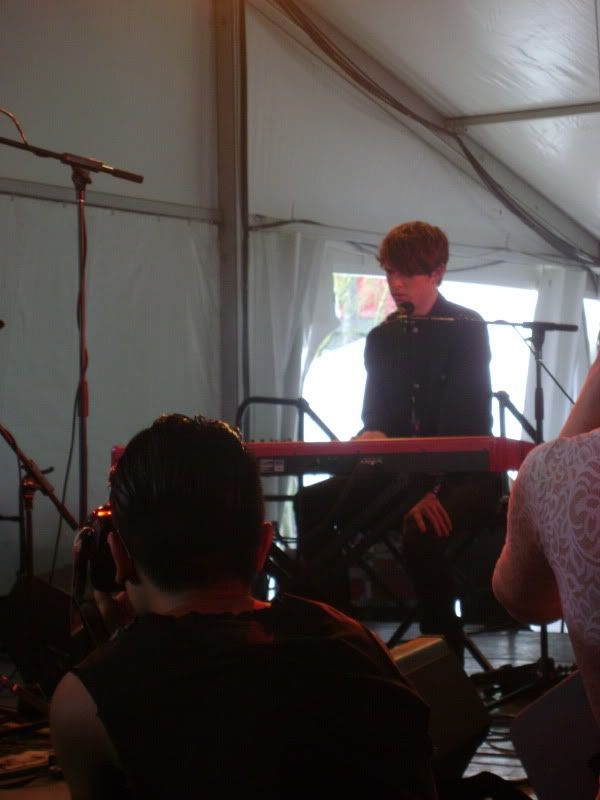 The Cool Kids
Asher Roth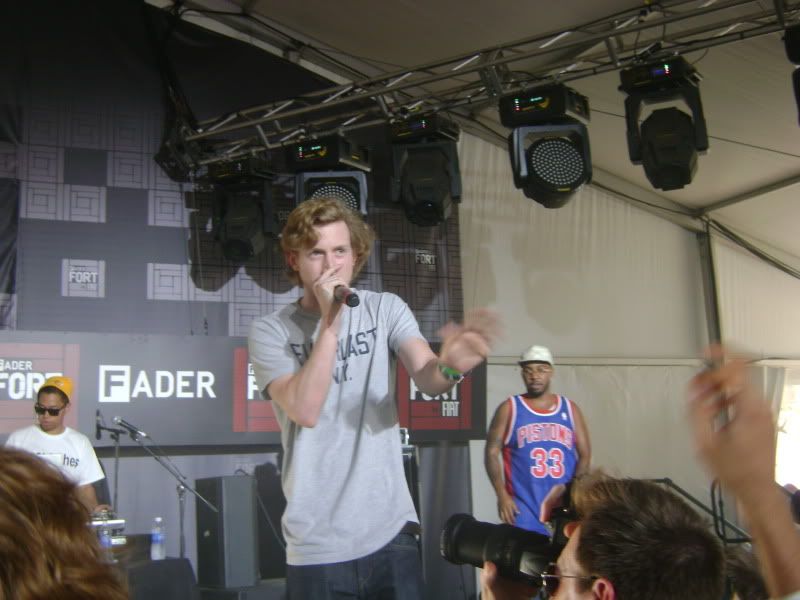 Curren$y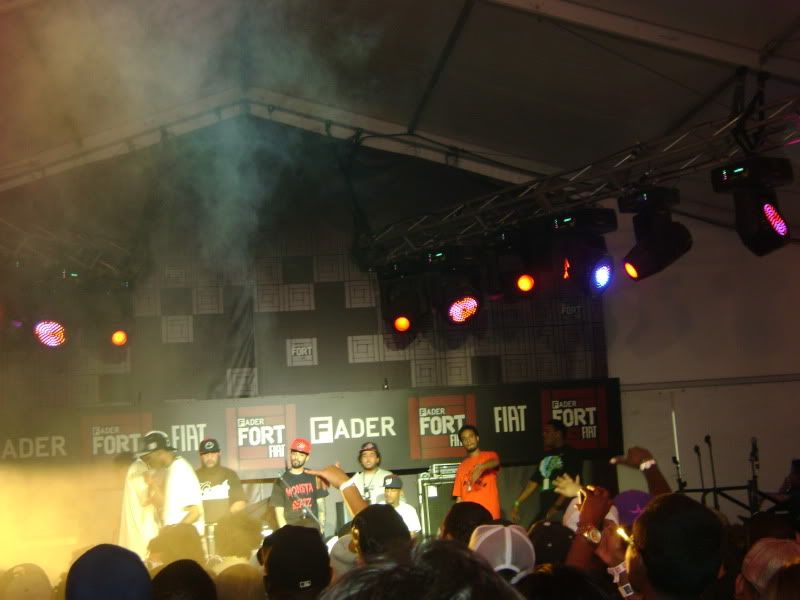 Lil B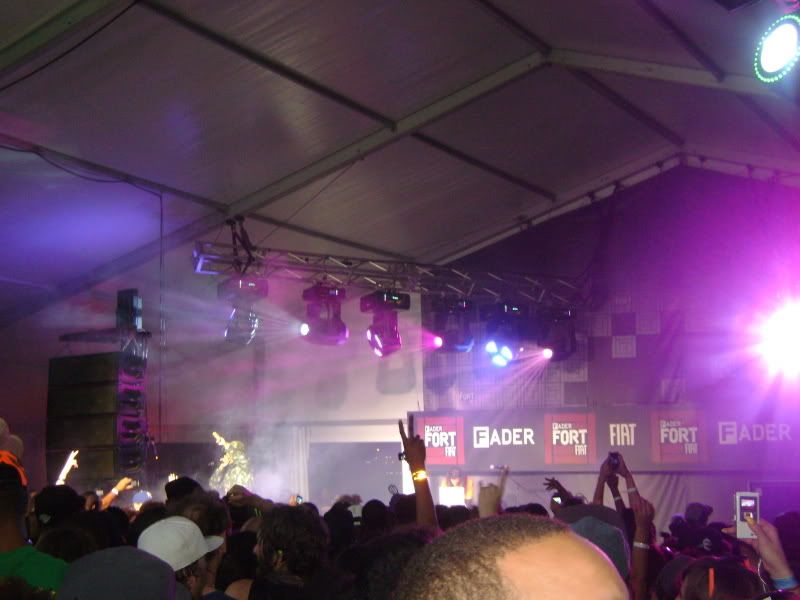 Sean P Diddy Combs