Tuesday, March 22, 2011
Saturday SXSW 3/19/2011
Ohh the last day of South By South West. The last day is always so bittersweet. I'm sad that its over, but at the same time I'm ready for all these people to get the hell out of Austin and can't wait to sleep, sleep, sleep. I got off of work and decided that since I had spent way too much money Friday night and that since I was gonna pretty much be by myself that I would go spend all day at the Fader Fort and drink for free. I hadn't been to the Fader Fort all week and thought that since I had waited in line for 3 hours for the stupid wristband I might as well go. Plus James Blake, who I really wanted to see, and The Cool Kids, who I saw at my very first SXSW and just seen about a month ago, were playing. I was in the very front for James Blake and it was amazing. His slow dubstep is so moving and relaxing and looking at him make these sexy beats in front of my face almost knocked me off my feet. Oh and he's soooo cute! He looks like a grown up Bieber kind of. He only played 3 or 4 songs which was kind of disappointing but I was still impressed. I really hope he comes back to Austin, because I will be there fo sho! After James Blake was some scream-o band and I went the farther back in the fort to where I couldn't really hear and relax and have a few drinks before The Cool Kids. I was pretty much in the front for The Cool Kids and they put on a great show like always. In the middle of their set Asher Roth jumped on stage and performed a song with them. Many people probably don't know this about me, but I love Asher Roth! I think he's totally sexy in so strange way. When he came on stage I literally almost jumped over the barricade and tackled him, but I refrained myself the best I could. Next to the stage was Curren$y. I've never really listened to Curren$y but I'm always down to support some New Orleans rap. After Curren$y I went back to my spot in the back of the fort to wait and see who the surprise performer of the Fader Fort would be. Lil B was last on the official line up, but The Fader Fort is always known for having some big surprise guest. I ended up meeting and hanging out with Steve and Aaron of The Hood Internet, who are too great guys and found out that we have a friend in common, the one and only Neiliyo! They are really into Lil B so we went back up to the stage to see The Based God. I had never seen or heard of this Lil B character so had no idea what to expect. What. A. Show. Lil B is one crazy dude and I have to say, I really do dig his song Wonton Soup. #SWAG. Before Lil B went on, to everyones surprise, the one and only Sean P. Diddy Combs came out and introduced him. Lil B performed a couple of songs, went on a couple of rants, and then tried to sell his book as one of the best books ever written. By the end of the set more than half of the crowd was gone. In attempt to bring the crowd back to life Diddy hopped on stage and started singing his verse from Waka Flaka's Oh Let's Do This, which brought the crowd back to life. As soon as he got off stage the crowd went wild, chanting DIDDY, DIDDY, DIDDY! Lil B's DJ then started playing the beat to All About The Benjamin's and the rest is history from there. He played his two other classics, Mo Money Mo Problems and Victory. Lets just say all my dreams of being a kid in the 90s, growing up on Puff Daddy, came true in those maybe 20 minutes! Diddy then introduced Odd Future and they performed Yonkers and then that was the end of The Fader Fort 2011. After I left there I decided to head over to the Red Bull Party to meet up with friends. I was trying to find them in line but couldn't find them due to the loudness and bad cell phone service. I ended up walking to the very front of the gate and walked right in with ease, real crasher style. Drinks were some what expensive and due to my brokeness I didn't want to buy any. I was just turning around to leave when I heard the MC say "You might know him from the Fresh Prince of Bel Aire…" and before he even said it I knew who it was…. "DJ JAZZY JEFFFFF!!" I turned my little body around and ended up making it pretty close to the front. I couldn't believe it, Puff Daddy and DJ Jazzy Jeff in the same night, no words. Towards the end of his set I was getting pretty tired and decided to say goodbye to SXSW 2011 and call it a night! Every year South By South West tends to top the year before, but this year was truly the best ever! I don't know how next year will ever be able to top 2011!!!
James Blake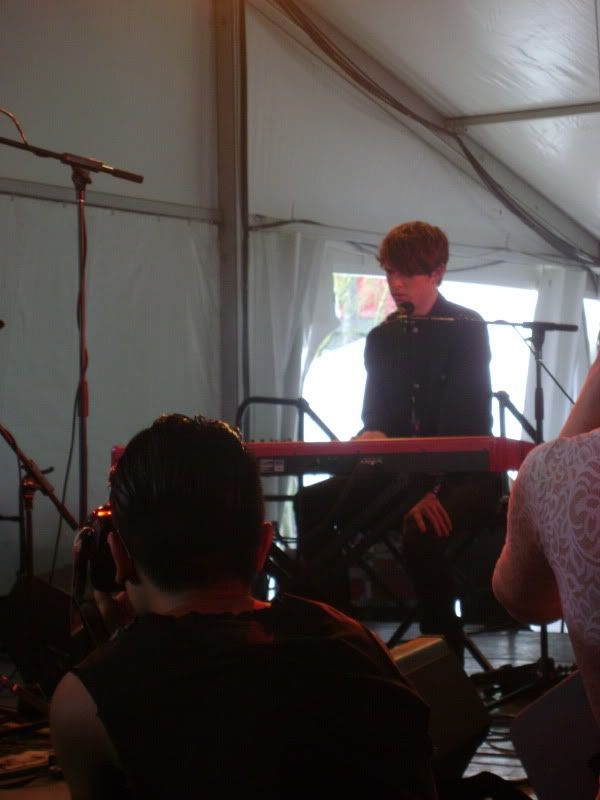 The Cool Kids
Asher Roth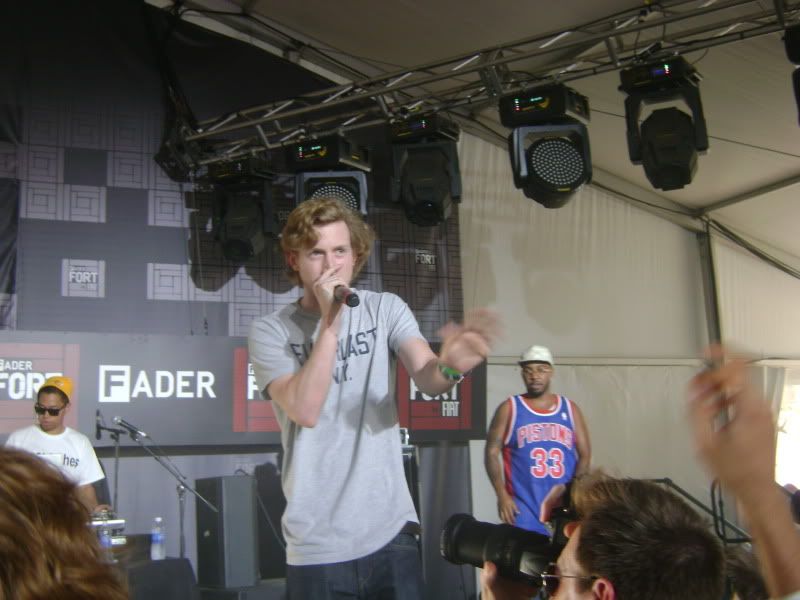 Curren$y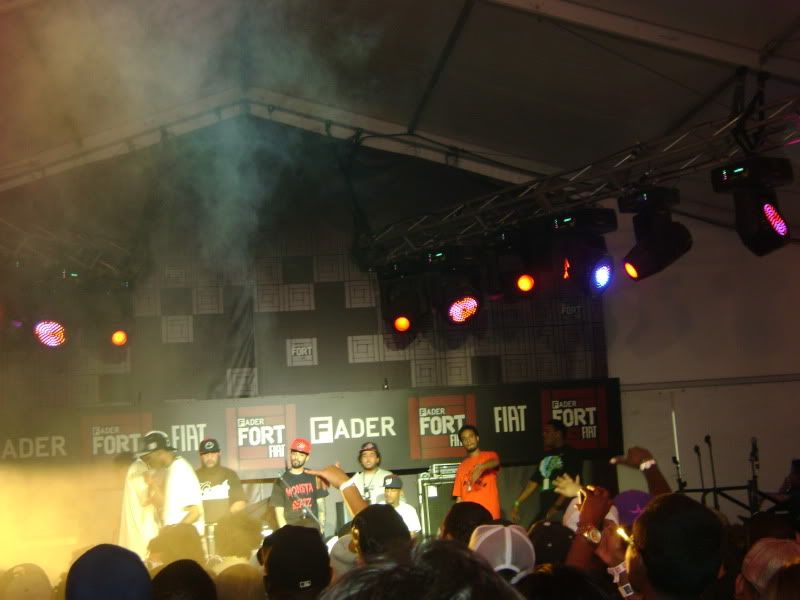 Lil B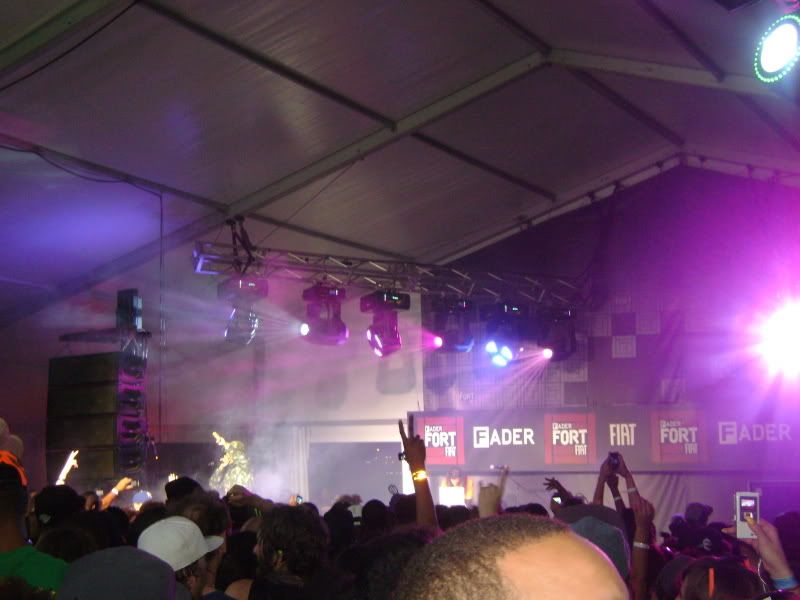 Sean P Diddy Combs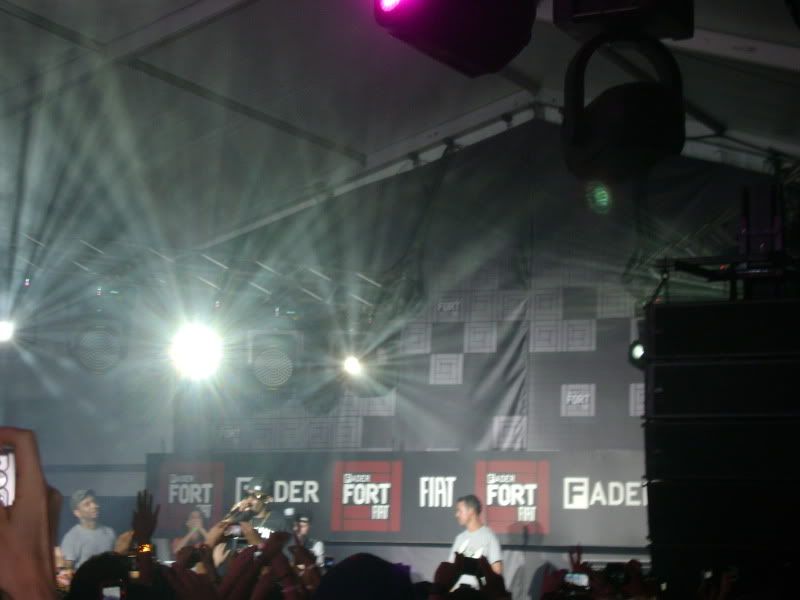 Friday SXSW 3/18/2011
All week I was looking forward to Friday. It was the day I was finally going to get to see the band that I HAD to see and was most excited for… Bombay Bicycle Club. I love these guys more than anything, I had been counting down the days since I first discovered them in about November to see them this week. My day started off by going to see Los Lonely Boys at Whole Foods. I've never really been a fan of Los Lonely Boys and they play probably every SXSW, but I was going to meet up with my friend. We stayed there for a little bit then it was time to go see Bombay Bicycle Club! As we were driving over there something happened to my car and it just died. We were right next to a bank or something and pulled in, parked it, and asked the security guard if we could leave it there untill dark and there was less traffic and he said that was fine. Then we started walking to the Red House. On the map on my phone it didn't seem like that far of a walk, but once we got to the highway we figured it was too far and tried to catch a cab. Do you know how hard it is to catch a cab in Austin in one of the most busiest times of year? Nearly impossible. I called my roommate and he came and picked us up, thank god! We got to Red House and there was barely anyone there, which got me even more excited! We sat down at a table inside the bar to eat and drink and I noticed that Bombay Bicycle was sitting right next to us! I was freaking out! I wanted to talk to them but was way to nervous, so I didn't. When I was up at the bar getting a drink the lead singer, Jack Steadman, was getting a drink as well, hearing this cute little London boy say "May I have a Lonestar, please?" nearly sent me over the edge! About an hour later the boys hit the stage and had what I would say my favorite performance of SXSW 2011! Ahhh they were sooo good! They played my favorites like Evening/ Morning and Autumn and others off I Had The Blues But I Shook Them Loose and their first album Flaws. Every song was fabulous and sounded almost as if I were listening to their albums in my car or room! I laughed to myself a little knowing that these guys are huge in Europe, constantly selling out shows, and here I was seeing them in Austin, TX playing for about at most 40 people. Amazing. After the show ended we heading back downtown wanting to go see The Smiles but ended up going to The Phoenix instead to see Das Racist. As I've said before, for me its not SXSW unless I see Das Racist. The showcase they were playing at was pretty much all rap. The first person we really watched was Kelley James and what a show that was. Here was this white, Ryan Bingham looking, dude playing in the middle of a rap showcase. But little did we know that Kelley James is quite the freestyler. He started randomly free styling about a frat- looking dude in the audience, it was great and gave me a good laugh. Next up came Dev and The Cataracs. Now I'm sure everyone has heard the song G6. Well, the girl singing with the Far East Movement is Dev. She's a pretty good white female rapper. The Cataracs are two hipster looking boys who actually wrote the song G6. They are pretty bad ass DJs and make some sick beats and of course everyone went wild when they played G6. Finally came Das Racist. I first saw these guys back in 2009 when they were just two unknown dudes who sang some song about a combination Pizza Hut and Taco Bell. Everytime I've seen them its been with a crowd of about 10- 20 people. Not this time, before the Wesleyan boys took the stage the crowd was chanting their name, then when they came on, most people around me were singing along to their songs. I couldn't believe it! Just knowing about these dudes when they were not known at all to now hearing a whole crowd sing "I'm at the White Castle, I don't see you, tiny ass hamburgers, tiny ass cheese burgers, tiny ass chicken sandwiches…." made my life. I even though I don't know Heems, Victor Vazquez, or Ashok Kondabolu personally I feel like they are my babies and I just saw them take their first steps! Friday= The best day of SXSW 2011.
Bombay Bicycle Club!!!!
Dev
The Cataracs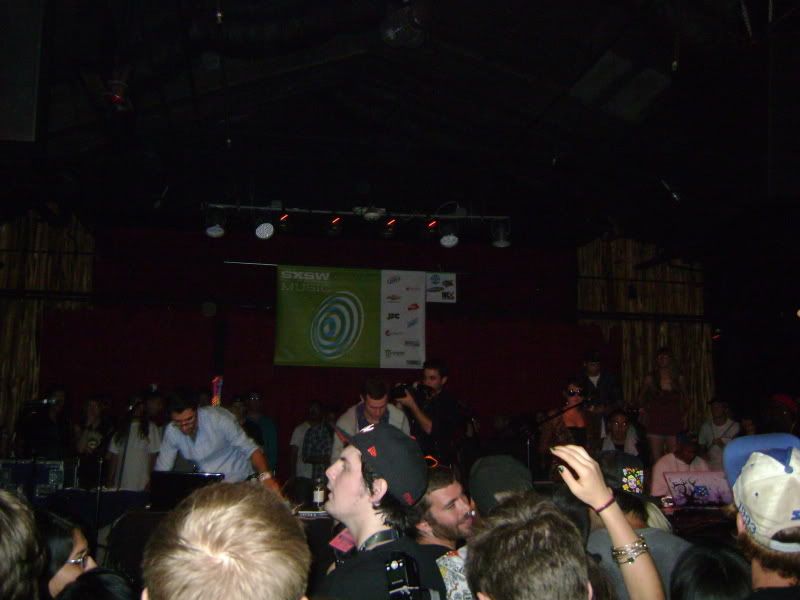 Das Racist 
Saturday, March 12, 2011
Friday 3/18 SXSW Parties
1. Music for Listeners at the Red House
12PM- Kid Canaveral
1PM- Frankie & The Heartstrings
2PM- The Answering Machine
3PM- Generations
4PM- Floating Action
5PM- Jonquil
6PM- A Classic Education
7PM- Bombay Bicycle Club
2. REDEFINE Magazine SXSW House Party
12:00- Christmas
12:45- Turbo Fruits
1:30- Wildldlife
2:15- Secret Colours
3:00- Valleys
3:45- Brain Storm
4:30- Secret Cities
5:15- BRAHMS
6:00- Class Actress
6:45- Pandit
7:30 Jeffrey Jerusalem
8:15- Florene
9:00- Casiokids
10:45- Starfucker
(INDOORS)
12:00- Grave Babies
12:40 These Are Words
1:15- Fever Fever
1:40- Prison
2:15- Trims
2:40- tog
3:15- Nerdry
4:00- Ryat
4:45- Blood Beach
5:30- Moon Duo
6:15- Woodsman
7:00- The Night BEats
7:45- Eyes, Wings, and Many Other Things
8:30- Prince Rama
9:15- DHARMA
9:40- Future Blondes
3. The Windish Agency's Annual Austin Day Party
Emos & Emos Jr.
(12pm- 6pm)
Braids
CULTS
The Chain Gang of 1974
Esben And The Witch
Foster the People
Friendly Fires
Givers
The Naked and Famous
Toro y Moi
Twin Shadows
4. Other Music & Dig for Fire Presents: Lawn Party Day 2
5. Lovey Hearts Club
6. Partisan Records/KF Records/Brooklyn Vegan Day Party
Swan Dive (Stage 1)

12:00- JBM

12:30- BOBBY

1:15- Holy Sons

2:00- Dolorean

3:00- John Grant w/Midlake

4:00- Wye Oak

5:00- J. Mascis

Barbarella Patio (Stage 2)

12:00- David Wax Museum

1:00- Sallie Ford & The Sound Outside

2:00- Jason Isbell and the 400 Unit

3:00- Deer Tick + Jonny Corndawg

4:00- Old '97s

5:00- Middle Brother

Barbarella Inside (Stage 3)

12:15- AgesandAges

1:00- Paleo

1:45- Warm Ghost

2:30- Shilpa Ray and her Happy Hookers

3:15- Vetiver

4:00- Oberhofer

5:00- The Dodos
7. Billboard Bungalow
Buffalo Billiards
7:30 pm: Boy & Bear
8:25 pm: Shilpa Ray
9:20 pm: Beach Fossils
10:15 pm: Screaming Females
11:10 pm: The Joy Formidable
12:05 am: The Pains of Being Pure at Heart
1 am: A Place To Bury Strangers
8. Mexican Summer x Gorilla vs. Bear SXSW 2011 Showcase
9. Big Easy East
10. My Old Kentucky Blog Presents: The Glitter Taco Smoosh Party
12:00-12:25 Still Corners 12:30-12:55 Carol Bui 1:00-1:25 Keepaway 1:30-1:55 Jones Street Station 2:00-2:25 Dominique Young Unique 2:30-2:55 No Joy 3:00-3:25 BRAHMS 3:30-3:55 We Are Hex 4:00-4:25 EMA 4:30-4:55 Pujol 5:00-5:25 Turbo Fruits 5:30-5:55 Burnt Ones 6:00-6:25 Headless Horseman 6:30-6:55 Asobi Seksu 7:00-7:25 Andy D 7:30-8:00 Das Racist
RSVP
11. Filter Magazine's Culture Collide
11:30am          —          Mart Larsen
12pm               —          Maps & Atlases
1pm                 —          Luke Rathborne
2pm                 —          The Belle Brigade  
3pm                 —          Weekend
4pm                 —          Phantogram
5pm                 —          Surfer Blood
12. West Rocks: UK Hipster Party
Eliza Doolittle
Wolfgang
Marques Toliver
Josh Beech & The Johns
The Traveling Band
Delilah
Vanaprasta
The Rocketboys
13. Pitchfork Presents: #Offline Day 2
14. Baeblemusic Takes On Texas: Presented By Lexus, MOG, and ROKU
5:30 - Datarock
4:30 - The Boxer Rebellion
3:30 - The Rural Alberta Advantage
2:30 - Suuns
1:30 - Matt Nathanson
12:30 - Lelia Broussard
15. Fader Fort
1:30 - 1:55 Carsick Cars
2:15 - 2:40 Frankie & The Heartstrings
3:00 - 3:25 Caveman
3:45 - 4:10 Wolf Gang
4:30 - 4:55 Brother
5:15 - 5:40 Ellie Goulding
6:00 - 6:25 Smith Westerns
6:45 - 7:10 Odd Future
7:30 - 8:00 Matt & Kim
DJs
1:00 - 3:00 Awesome Tapes
3:00 - 5:00 Kingdom
5:00 - 8:00 Brenmar
16. Shure Presents the Under the Radar Party Day 2
12:00- Porcelain Heart
12:45- Hooray For Earth
1:35- Owen Pallett
2:25- Surfer Blood
3:15- Telekinesis
4:05- Menonena
5:00- Okkervil River
17. Standard Recording Co Presents:: A Craftacular Music Carnivale!
18. Muzzle of Bees Backyard BBQ